1. Main features:
Streamlined design originated from EU, main structure consists of rack, cutter holder, oil cylinder, hydraulic controller, backgauge and other components. Finite-element analysis of main parts, welding parts uses tempering, vibration and other fabrication methods to eliminate stress ensuring the structural strength and rigidity;
Cutter holder use three-point support rolling guide rail, reducing the friction to the greatest extent, and realizing seamless rolling during cutter holder moving.
Leftmost front holder configured with verticality regulator and front positioning device, easy operation and high efficiency;
Simple and effective blade adjusting mechanism rearranges blade clearance by CNC system, improving the cutting quality.
Fine ball screw and rod structure, good-performance frequency converter is applied to positioning X axis to ensure accuracy, unique designed timing transmission-mechanism, stable and reliable.
By grating ruler detecting the shearing angle.
Light and shadow line is conductive to manual scribing for cutting; stable and reliable hydraulic transmission; integrated hydraulic system is able to significantly alleviate problems causing by hydraulic fluid leakage.
Made by high-quality alloy tool steel capable enough to against impact load and high wear resistance when cutting;
With reference to ergonomic design, easy CNC system surface, improving the operation precision and comfort; rolling ball worktable to reduce friction and prevent work piece from scratching; novel and practical safety guard device, line with safety specification, protect the personal safety; delicate design, petty work piece can be done easily by hand.
2. Standard Configuration:
Holland DELEM DA360S CNC system
Backgauge X-axis servo control
Servo motor driving the controller
Using HIWIN ball screw and rod ensures the accuracy within 0.05mm.
Controller cantilever and front supporter.
Germany Bosch Rexroth integrated hydraulic valve
Germany EMB tube connector
Germany Siemens main motor
France Schneider electrics
Hydraulic and electrical overload protection
Light aligning
Blade materials (6CrW2Si)
South Korea KACON pedal switch
Grating ruler automatically adjusts the cutting angle
Automatically rearrange the cutting clearance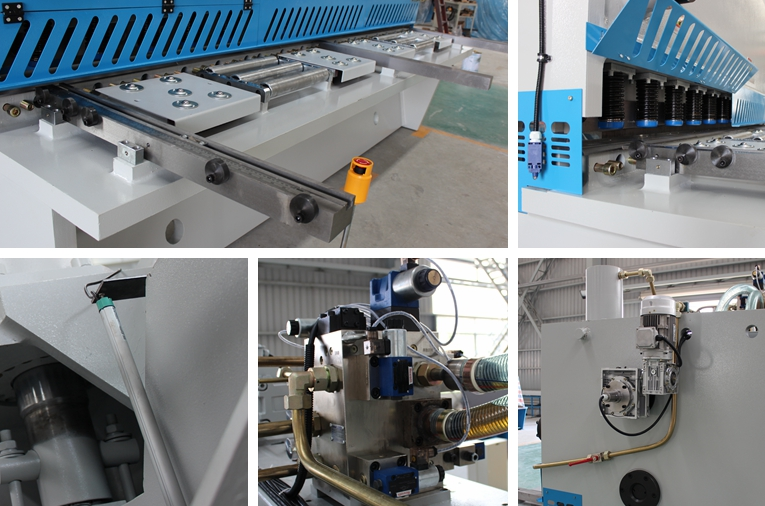 Type
Thickness(mm)
Width(mm)
Cutting Angel (°)
Material Intension (KN/cm)
Rear Stopper Adjustement(mm)
Travel Times (Times/Min)
Hold Downs (Pcs)
Main Power(kw)
Weight (kg)
Dimension (L×W×H)mm
4×2500
4
2500
1°30′
≦450
20-500
10
12
5.5
3800
3040×1610×1620
4×3200
4
3200
1°30′
≦450
20-500
10
14
5.5
5000
3840×1610×1620
4×4000
4
4000
1°30′
≦450
20-750
8
16
5.5
6500
4600×1700×1700
4×6000
4
6000
1°30′
≦450
20-750
5
20
7.5
11000
6460×2100×3200
6×2500
6
2500
1°30′
≦450
20-500
10
12
7.5
5000
3040×1610×1620
6×3200
6
3200
1°30′
≦450
20-750
9
14
7.5
6000
3840×1610×1620
6×4000
6
4000
1°30′
≦450
20-750
8
16
7.5
8200
4620×1750×1700
6×5000
6
5000
1°30′
≦450
20-750
6
18
7.5
10500
5400×1800×1900
6×6000
6
6000
1°30′
≦450
20-750
5
20
11
16500
6480×2100×2300
8×2500
8
2500
1°30′
≦450
20-750
10
12
7.5
6000
3040×1700×1700
8×3200
8
3200
1°30′
≦450
20-750
8
14
7.5
7200
3860×1700×1700
8×4000
8
4000
1°30′
≦450
20-750
8
16
7.5
8800
4640×1700×1700
8×5000
8
5000
1°30′
≦450
20-750
8
18
7.5
11500
5400×2100×2000
8×6000
8
6000
1°30′
≦450
20-750
8
20
11
18000
6480×2100×2350
10×2500
10
2500
2°
≦450
20-750
9
12
11
7300
3040×1700×1700
10×3200
10
3200
2°
≦450
20-750
9
14
11
8000
3860×1700×1700
10×4000
10
4000
2°
≦450
20-750
8
16
11
12050
4650×2100×2000
10×6000
10
6000
2°
≦450
20-750
5
20
15
24000
6500×2100×2300
12×2500
12
2500
1°40′
≦450
20-750
9
12
18.5
9000
3140×2150×2000
12×3200
12
3200
1°40′
≦450
20-750
9
14
18.5
10800
3880×2150×2000
12×4000
12
4000
1°40′
≦450
20-750
8
16
18.5
13000
4680×2150×2000
12×5000
12
5000
2°
≦450
20-750
6
18
18.5
16000
5900×2150×2000
12×6000
12
6000
2°
≦450
20-1000
5
20
18.5
29500
6900×2600×2700
12×8000
12
8000
2°
≦450
20-1000
5
24
18.5
46500
9000×2600×2700
16×2500
16
2500
2°30′
≦450
20-750
9
12
18.5
11000
3140×2150×2000
16×3200
16
3200
2°30′
≦450
20-750
8
14
18.5
13000
3880×2150×2000
16×4000
16
4000
2°30′
≦450
20-750
8
16
18.5
16300
4650×2150×2200
16×5000
16
5000
2°30′
≦450
20-1000
6
18
18.5
20000
5900×2600×2700
16×6000
16
6000
2°30′